Sustainability
make more with less
re-use and recycle
minimize energy
use green materials
build to last
support green projects
teach and inspire
For us, sustainability is not just minimizing environmental impact but educating our audience to think and act differently too. Every project starts with a question.
Can we use recycled, reclaimed or other eco-friendly products?
Case Study: Bill & Melinda Gates Foundation Visitor Center
Client: Bill & Melinda Gates Foundation
This 11,000 square-foot space features over 1000 individual graphics but uses an absolute minimum of PVC (a.k.a. vinyl). Almost all graphics in the visitor center are printed directly onto locally-sourced wood. An added bonus is a warm and inviting feel, suited to its Pacific Northwest home. Read more about this project.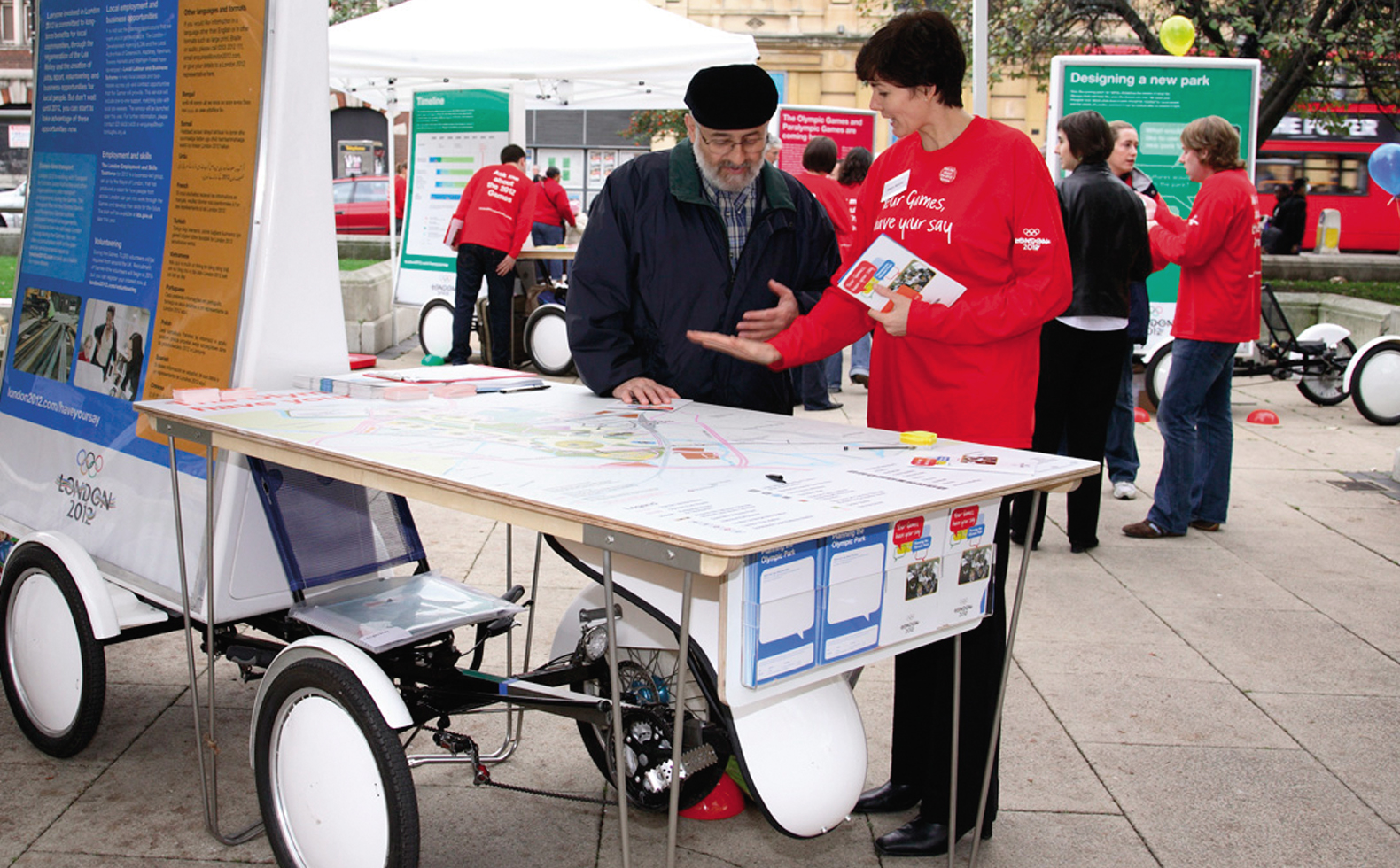 Is there an opportunity to minimize the energy we need?
Case Study: London Olympics 2012 public consultation
Client: London 2012 Olympic Delivery Authority
A unique community consultation program used a fleet of modified bikes to engage citizens across five boroughs in east London. Public participation was encouraged using a kit of interactive materials. Using bikes was a positive message not only about sustainability but also about the Olympics and the role of sports and healthy living. Read more about this project.
How can we encourage 'greener' behavior?
Case Study: Money in the Trash
Client: Self-initiated with a grant from the University of Washington
We joined forces with Prof. Karen Cheng for this installation at the University of Washington's Foster School of Business that educates users to sort their waste correctly. UW pays $145 for every ton of waste landfilled, but only $60 for every ton of compost, and recycling is free. Trash sorts found that up to 88% of items dumped in UW landfill bins are actually compostable or recyclable. Thus the university could save $290K every year if bins were used accurately. Our Money in the Trash screen installation rolls out in 2016 and if successful can deploy to other locations across campus.
Can we get people talking?
Case Study: Dear Seattle
Client: Self-initiated for the Seattle Design Festival and AIA Seattle
We invented the Dear Seattle pop-up space for the first ever Seattle Design Festival. Low-tech interactives got citizens talking about how design can play a major role in creating better, healthier places to live. Participants were invited to write a giant, communal letter to the city, create a map pinpointing Seattle's hidden treasures and hot spots, and provide a street-wise design critique. Read more about this project.
Can we lend our design support to great green projects?
Case Study: Set the Table for SAM
Client: The Pollinator Pathway
Our pro bono collaboration with Pollinator Pathway creator Sarah Bergmann started back in 2009. We designed an identity and communications to help tell her story: an initiative to re-think our urban landscape and create connected, pollinator-friendly gardens through cities. The project has blossomed into everything from a Seattle Art Museum exhibition to a Pathway-inspired table for a fundraising dinner at Seattle's Olympic Sculpture Park, where we turned diners into bugs. Read more about this project.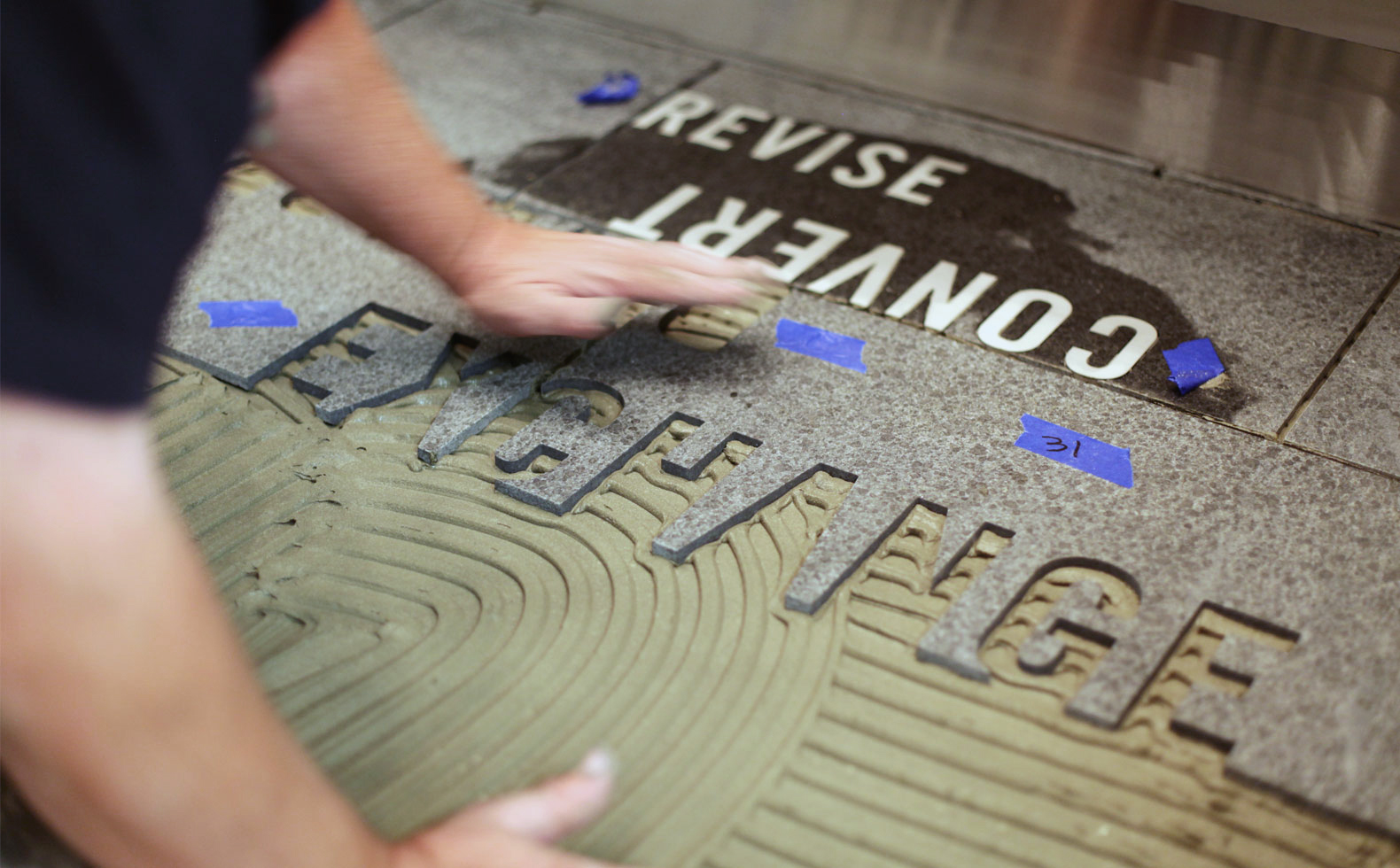 Can we build to last?
Case Study: Change Elevators
Client: University of Washington Foster School of Business
When the right material is used for the job it avoids the need for replacement, and a double-whammy on cost and materials. Our installation needed to last as long as this new, "one hundred year building." Our solution is crafted from stainless steel type set into stone tile floors on six levels of the building, both inside and outside of the elevators. As the elevators move, different phrases are created at each floor—for example GLOBAL CHANGE, LOCAL CHANGE. Despite their high-traffic location, they continue to wear well. Read more about this project.
Designed in collaboration with Karen Cheng
How can we inspire the next generation to design sustainably?
Case Study: Waste of Space project developed in Kristine Matthews' Exhibition Design course at the University of Washington 

Teams of design seniors were challenged to research a statistic on waste and then express and explain that statistic through a unique material installation. Read more about this project.